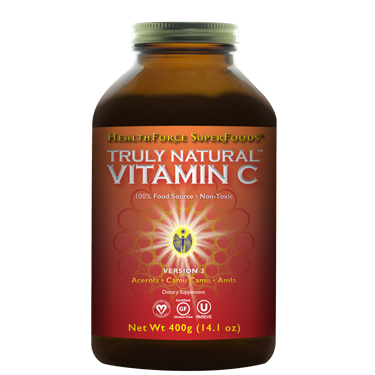 Truly Natural Vitamin C Powder
Use discount code HEALTH to Save 15% OFF this health item for a limited time! Cannot be combined with additional discounts.
Truly Natural Vitamin C is a 100% whole food vitamin C powder, from acerola cherry, finely ground, high absorption, full spectrum whole food form.
Superior Absorption
Each 1.5 teaspoon provides: 302 mg of naturally occurring, truly natural, absorbable, non-toxic vitamin C complex from a whole food extract of acerola cherry (containing naturally occurring cofactors including bioflavonoids, vitamins, minerals, and phytonutrients). Naturally buffered. This product does NOT contain isolated vitamin C! This truly natural acerola concentrate is not excreted in large amounts in the urine (visible as a yellowish tint), is not highly acidic, is non-toxic, and does not cause nutrient imbalances (does not imbalance iron and copper levels or promote anemia). Vitamin C never occurs as an isolate in nature; it is part of an entire vitamin C complex! Food sources of the entire vitamin C complex are the only way to get nutrition as nature intended.
Suggested Use: 1.5 teaspoons or more per day. Store at room temperature.  The amber glass bottle, metal lid, and oxygen absorber preserve nutrients optimally. Mix with purified water, fresh juice, soy milk, rice milk, freshly made sesame seed milk, smoothies, Vitamineral Green™, Vitamineral Earth™, or other food.
Suggested Adjuncts: A whole foods, organic, Vegan diet with emphasis on high-water-content, fresh, raw/live foods (see the book "Uncooking with Jameth & Kim"); Vitamineral Green™ and Vitamineral Earth™ (unique and comprehensive superfood nutrient and detoxification complexes), Liver Rescue™; exercise (try rebounding); fresh air (get lots of plants); and everything else healthful.* HealthForce truly cares and is committed to researching and developing the highest quality, most regenerative, life-enhancing products.
Size: 270 Gram