Real Results

Raw Ingredients
BLUEBERRY FUSION SCRUB (exfoliating)
raw + live + pure
WILD BLUEBERRY + ACAI PUREE
MALIC + LACITC + CITRIC ACIDS

EXFOLIATING FACIAL SCRUB WITH SUPERFRUITS
BLUEBERRY FUSION MICRO-SCRUB (Exfoliating / Normal Skin Types)

Is a powerful exfoliant with micro-polishing DIAMTOMACEOUS EARTH and high potency LACTIC, MALIC AND CITRIC ACIDS that effectively removes dull, dry and damaged skin cells. Reveal a brighter, fresher, and smoother refined skin texture. Organic superberries such as BLUEBERRY AND ACAI are antioxidant powerhouses that help to neutralize free radical damage. Get the results of a professional micro-dermabrasion treatment in the comfort of your own home.
WHY WE LOVE IT

This fresh organic blueberry puree is an exfoliating antioxidant facial scrub with extra fine earth particle exfoliants. This will leave your face feeling as smooth as glass. Indulge in this amazing one of a kind facial polish. Fresh blueberries are blended to keep the high levels of anti-oxidant activity intact and create a treatment that feeds the skin as it exfoliates. All natural fruit acids are added in combination with natural earth particles that create the perfect balance of exfoliating action to leave your skin feeling rejuvenated, soft and smooth. Plus this scrub smells amazing!
FUNCTIONALITY
professional level exfoliation
removes dull, rough skin
creates ultra refined skin texture
minimizes pore size

KEY SUPERFOODS: Blueberry, Acai Berry
KEY CLINICAL ACTIVES: Lactic, Malic and Citric Acids
SKIN TYPES: Normal, Oily/Acne, Dry, Mature
RECOMMENDED USAGE:  Use a quarter size dollop and apply to face in a circular motion, then rinse off well. Use 2-3 times a week. Since we use superfoods that are highly pigmented, please avoid contact with fabrics and clothing to avoid staining.
FRESH INGREDIENTS: Antioxidant Micro-Clustered Ionized Water, Aqueous Solution of *Rosemary, *Lavender, *Rose, *Nettle, *Virgin Coconut Oil, *Jojoba Oil, *Meadowfoam Seed Oil, Cetearyl Olivate and Sorbitan Olivate (Olive Oil Emulsifier), *Wild Blueberry Puree, *Acai Berry Puree, *Pomegranate Juice, *Black Cherry Juice, Tamarind Seed Extract (Tamarindus Indica), Diatomaceous Earth, Xanthan Gum, Guar Gum, Colloidal Oat Flour, Lactic Acid, Malic Acid, Citric Acid, *Carrot Seed Oil, *Rose Hip Seed Oil, *Rosemary Oil Extract, Lactobacillus/Kelp Ferment Filtrate, Natural Blueberry Flavoring Extract, Clary Sage Essential Oil, Leuconostoc/Radish Root Ferment Filtrate (Natural Preservative System).

* DENOTES ORGANICALLY GROWN (The latest ingredients lists are posted online and may change from physical product labeling.)
*This product DOES NOT require refrigeration. To extend the potency and preserve the fresh ingredients store in a cool room away from direct sunlight.
Real Results

Raw Ingredients
Gourmet
Handcrafted Bio-active Superfood Skincare.
Pure Beauty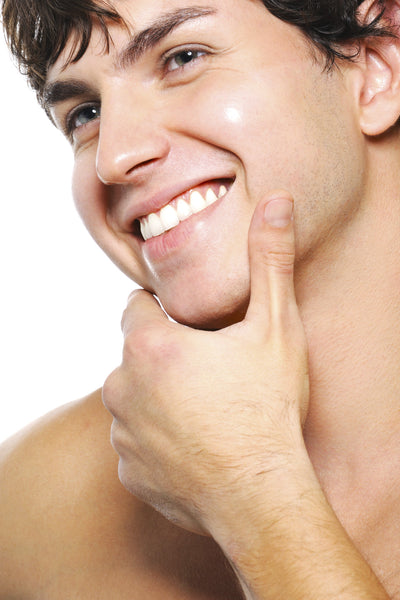 Our mission is to create the healthiest, non-toxic products that also deliver real results using powerful organic superfoods and raw ingredients that transform the skin, hair and complexion. Our method for creating our bio-active raw products is to add our actives and raw superfoods to a temperature below 110 degrees, this is important because this maintains the integrity and potency of the micronutrients. Take your skincare to the next level and experience the difference and results that RAW BEAUTY can do for you.
Superfoods
Superfoods are nature's highest concentration of nutrients in an edible form. Superfoods really are nature's pharmacy. These micronutrients are so rejuvenating to the body because the vitamins, minerals, enzymes and co-factors are completely bio-available. Using superfoods topically is one of our breakthroughs. The Body Deli is one of the first companies to use superfoods topically. We know more about superfood skincare than anyone. We know when you start using superfoods you will never want to use anything else.
Handcrafted
We modeled The Body Deli after a juice bar. Our products are made by hand everyday to provide the absolute finest and most beneficial skin, body and hair care products available anywhere. Our Master Cosmetic Chefs, lovingly formulate and mix our incredible products to the highest standards. We painstakingly source our essentials oils and ingredients from sustainable farms all over the world. We hope you feel the quality and attention to detail that we put into making everyone of our creations.